Case Study
-
Elevio
Customer success tools for happy and productive teams.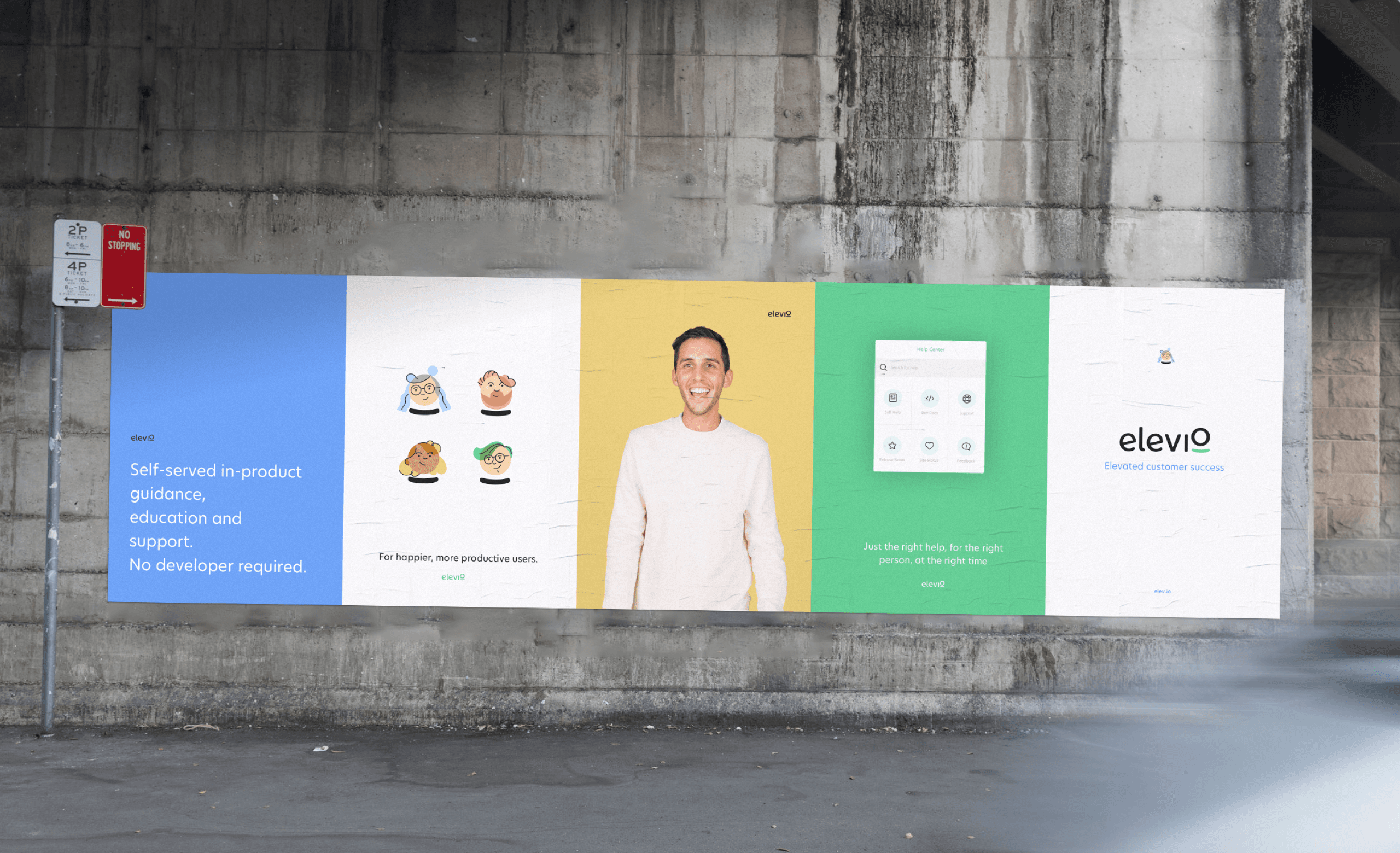 Introduction
Elevio is a customer success platform based in Melbourne. Their platform acts as your 24/7 automated support team, intelligently delivering in-app help to the right customer at the right time, and actively deflecting incoming support tickets. Elevio also increases product literacy by empowering users through integrated self-served guidance, education and support.
Matt and Chris from Elevio reached out to Jellypepper for a brand refresh, as part of their mission to empower their users by building best in class tools that contextually guide, educate and support. We came recommended by our VC friends at Blackbird and Airtree (thanks, friends!) and we were happy to help out.
Styleguide
The new Elevio logotype has been designed to convey an approachable and optimistic tone. It also subtly brings in the concept of elevating the user, with the rounded underline representing the user's shoulders, overall reminiscent of a happy face.
The new Elevio colour palette is optimistic and approachable, colourful and diverse in nature.
For typography, we decided to go with New Hero, a powerful geometric sans designed by Miles Newlyn. Its unique, friendly design combined with 10 wide-ranging weights, companion italics, small caps, massive language support and enhanced accessibility compliance made it a strong contender for this globally focused startup.
Tone of Voice
We also created tone of voice principles - rules and guidelines around how the Elevio team should talk to customers. These apply whether they're having a conversation, writing an ad, sending an email or pulling together a team presentation.
Speak like a person, not a robot: Write like you would speak to another person. Be conversational. Explain things simply. Limit the formalities and jargon. Avoid stuffy words.
Guide people through their journey: Everyone's journey is different. Tailor your customers' experience to them. Put yourself in your their shoes.
Don't use ten words when four will do: Be concise and abbreviate. Use bullet points and short, snappy sentences. Avoid repeating yourself. Rely on images to explain things and emojis

👍

for emotion.
Be a source of positive energy: Use engaging and positive language. Don't take yourself too seriously. Be enthusiastic.
Illustrations
We worked with a South African illustration team to create a range of mascots. The shape of the mascots come directly from the logotype, creating a visual harmony between the two. We also used the Elevio colour palette and a diverse range of skin tones to create a mix-and-match system in Sketch where you can build new mascots from existing illustrations!
Implementation
Towards the end of the project, we also created a few mockups of what the new brand styleguide might have looked like when rolled out across the website, onboarding process and app.