Case Study
-
Spaceship
Invest your savings in the companies of tomorrow.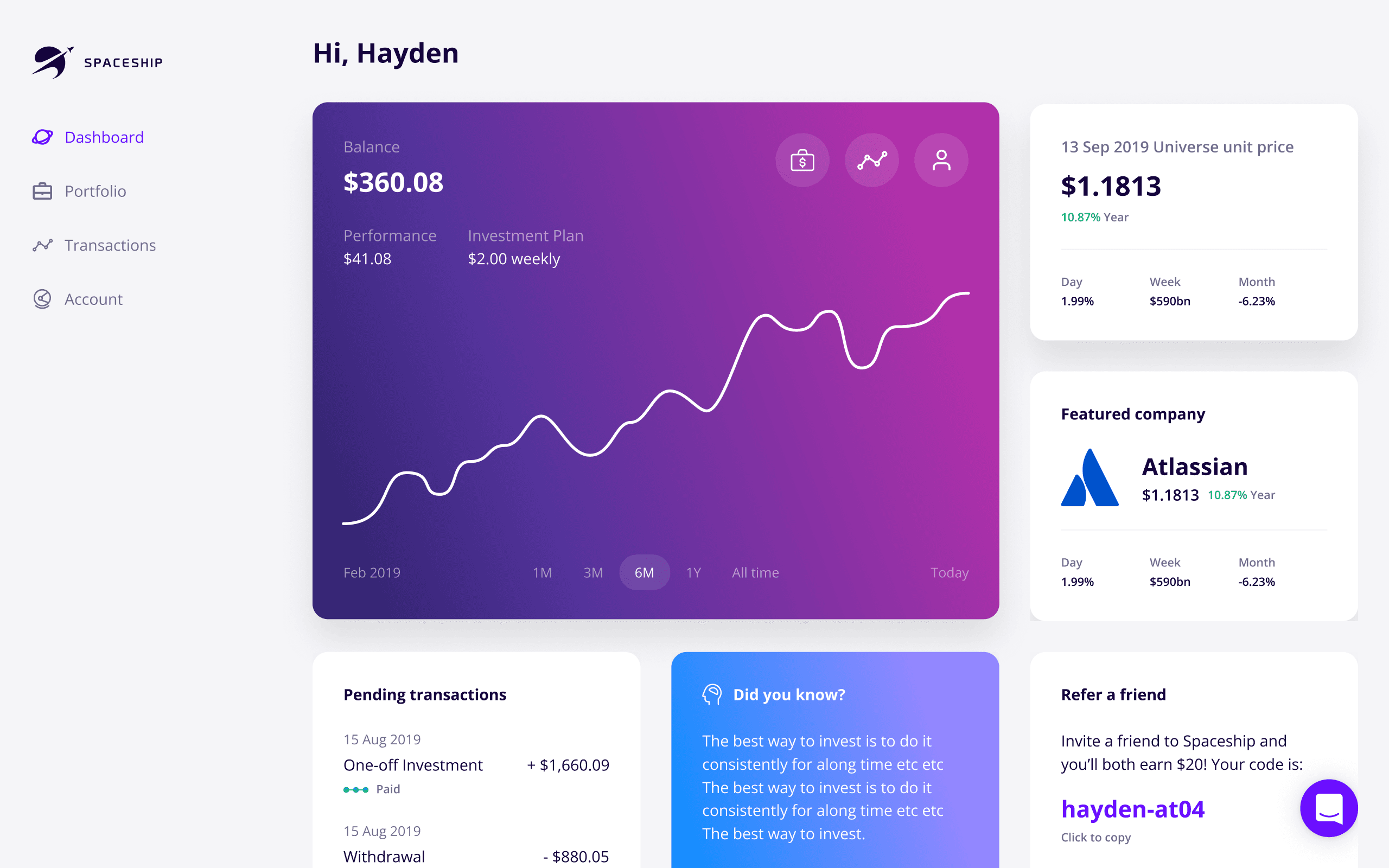 Introduction
Spaceship is an Australian financial services company whose mission is to enable you to invest in your future, so you can live the life you want to live. They launched their investment product Voyager in April 2018, which now has over 45,000 financial members and $40M in funds under management. Voyager is available on the App Store and Google Play Store.
Alasdair from Spaceship reached out to us for help with bringing Spaceship Voyager to the web. The goal was to allow the next generation of newcomers and experts alike to start their financial portfolio from their laptop, ensuring that we keep the same simplicity and fun that the mobile app provides.
Onboarding
Voyager's onboarding is pretty straightforward, even for a financial platform. The only information needed is contact details (full name, email, date of birth, address, etc) and a password. You can also connect your bank account to automatically add and withdraw money during this time if you're keen. We decided to split onboarding up into 3 simple steps (account details, contact details, bank details) to make each step feel incredibly easy.
Dashboard
The goal of the dashboard is to provide you with important information at a glance. We made use of graphs for your balance over time and portfolio performance, combined with flexible card components for almost everything else. From the Dashboard, you can explore your investment plan status, today's unit price and notifications. If you scroll past the financial information, you're greeted with today's news and interesting "did you know" cards.
The Spaceship Voyager web design is aimed at reflecting what has made Voyager successful to date: simple and accessible investing, financial transparency and the ability to learn and engage with Spaceship beyond just depositing money.
Portfolio
The Portfolio page is a place to browse the companies that make up your financial portfolio. At a glance, you can browse through the hundreds of companies and see interesting information about their share price, company size, target allocated (how much of your portfolio is invested in them), their YTD performance and today's performance. You can even browse your portfolio by sector or country!
Transactions
The Transactions page is designed to provide a summary of your activity with Spaceship Voyager. From here, you can view an overview of transactions with your portfolio (investments, withdrawals, etc) and upcoming and previous transactions. You can also deposit and withdraw funds on a whim, or even set up an investment plan!
Account
The account section is super straightforward - it's a place to update your personal (name, email, password), contact (phone, address) and bank details. You can also enter your Tax File Number (TFN) from here.